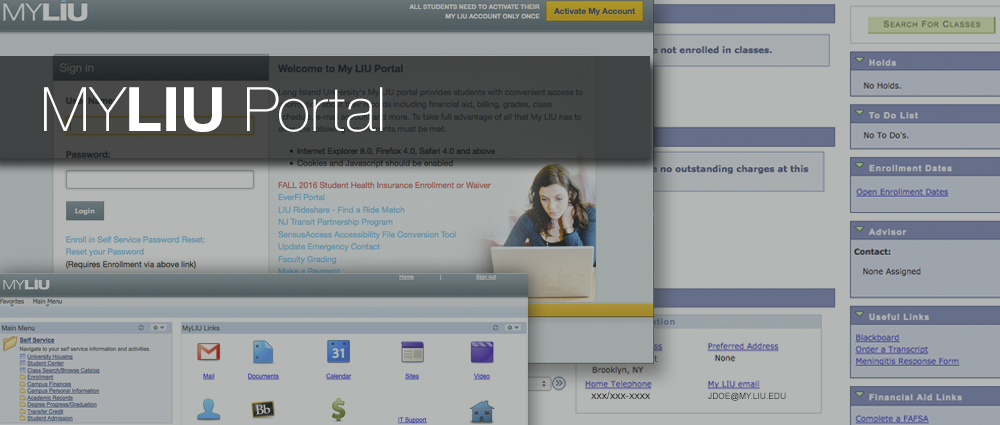 Student Center
The Student Center contains pagelets for Academics, Finances (Financial Aid and Bursar), Personal Information, Admissions, Holds, To Do List, Useful Links, Financial Aid Websites, and Student Financials websites. By clicking on the Search for Classes button, you can find classes or browse the University catalog by term.
Academics
The Academics pagelet allows you to view your Class Schedule in a number of formats, view grades, and perform other related actions, including viewing unofficial transcripts and transfer credit reports. In the future, you will be able to register on-line for classes, add/drop courses, and request official transcripts.
Finances
The Finances pagelet contains both your Bursar account information, and your financial aid information. You may view your account activity by clicking on the "Account Inquiry" link under My Account. In the future, you will be able to pay your bill online. Click on the "View Financial Aid" link under Financial Aid to see your financial aid awards by award year, and by individual term.
Useful Links
The Useful Links pagelet provides a link to the main University website, www.liu.edu.
Holds
The Holds pagelet allows you to view hold information placed on your account that will prevent you from accessing or engaging in select University activities. When you click on the "details" link, you will be able to see which office placed the Service Indicator or Hold on your record and you can contact them for information on how to remove this Hold.
To Do List
The To Do List pagelet displays remaining documents and actions required to complete tasks for Admissions, Financial Aid, and other departments within the University. When you click on the "details" link, you will be able to see more information about items on the To Do List and which office to contact to complete them.
Financial Aid Websites
The Financial Aid websites pagelet provides links to key external financial aid websites to help with applying for and accepting financial aid.
Student Financials Websites
The Student Financials websites pagelet provides links to key external student financials websites.
Personal Information
The Personal Information pagelet allows you to view key personal data maintained by the University; it allows you to confirm that your address, name, phone number and email information is correct.
Admissions
The Admissions pagelet provides a status of any open applications at the University to date.