Photo courtesy of Microsoft Inc.
About Microsoft 360 Mailbox
Microsoft 365 is a cloud-powered productivity platform. With access you can get:
The most up-to-date modern productivity apps, such as Microsoft Teams, Word, Excel, PowerPoint, Outlook, OneDrive, and so much more.
The ability to install on PCs, Macs, tablets, and phones.
Feature updates and upgrades not available anywhere else.
LIU Microsoft Office 365 is available to all active faculty, staff, students & emeritus for free. Alumni and retirees are not included in the university's licensing terms with Microsoft.
Sensitive Data
Microsoft Office 365 at LIU may not be used with sensitive university data.
Accessibility
Refer to Microsoft's accessibility page for Microsoft 365 apps for more information.
Resources
For information and training on office products you can visit the Microsoft 365 help & learning center or click on the products below for the topic of interest.
The IT Help Desk offers only limited support for Microsoft Office 365
Support is limited to helping you access the Microsoft  365 productivity apps via your account. If you have questions or need assistance beyond access, please visit Microsoft Office Support.
Although additional Microsoft services may be available for use with your Microsoft 365 account, these services do not come with institutional support and should not be used for critical university business, research, or educational use cases.
Go to https://www.office.com
Enter your LIU email address (i.e., username@liu.edu or username@my.liu.edu) at the Microsoft sign-in prompt.
Sign in using your LIU password on the next screen
Authenticate with Duo two-factor authentication, if prompted.
You will be taken to the Microsoft 365 site, where you can use the various online applications available.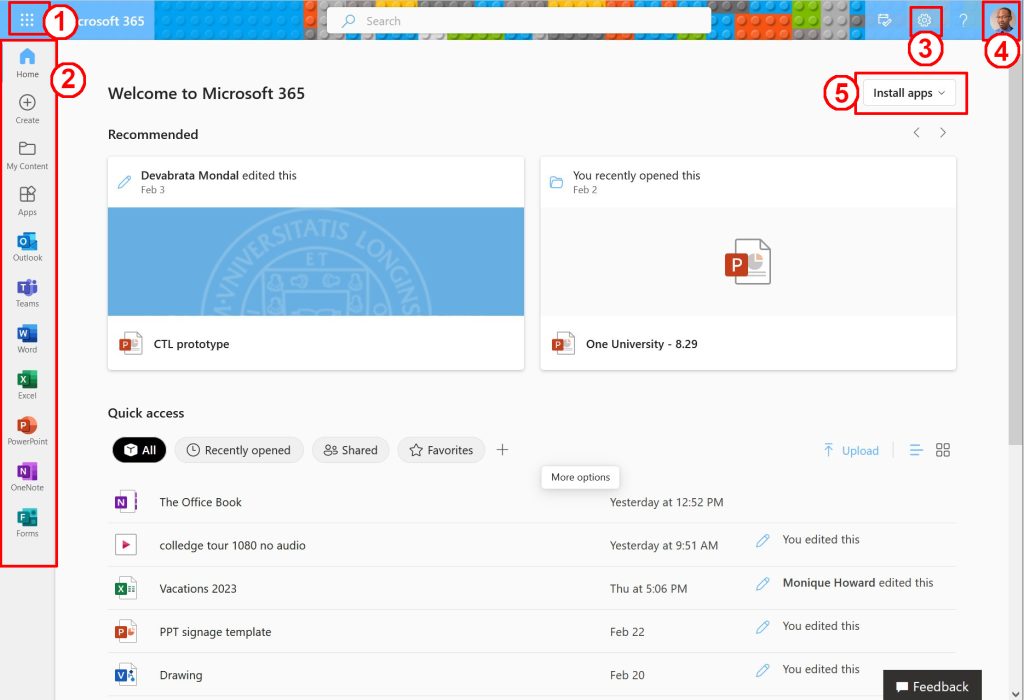 On the office home page you can access All of the Microsoft services available to you, change account settings, or install office to your machine.
Click on the grid to Access the entire list of applications available

Here you can keep shortcuts to your most commonly used applications

Click the gear to access settings and other functions like signatures, or auto reply

Click your profile picture to access your profile settings and password reset

Click this button to install Office 365 locally to your machine.
If you are having problems logging into the Microsoft.com site, your account may need to synchronize with the Microsoft servers. Go to https://webapps3.liu.edu/office365 and log in. Once it says your account is synced wait one hour, then try to log into office again.
For more information on working with and configuring outlook you can go here.
Activating your Microsoft Account
Go to: https://my.liu.edu and login with your LIU Credentials to start the sync process.
Authenticate with Duo two-factor authentication when prompted.
After logging in, click on the Microsoft 365 tile.

You will be prompted to log in again, use the same myLIU single sign on.
You will be taken to the Microsoft 365 site, where you can use the various online applications. Click on the grid of dots in the upper left to see everything available for your use.
Activating M365 Online Apps
After logging into Microsoft Portal you will see a screen that looks like below.
Select the Waffle Grid Menu selector (top left) and select OneDrive.
This will let you get access to the onedrive and any one of the other apps that you see listed in the menu.
At this point in time the Outlook app is not active.
Microsoft 365 is a cloud-powered productivity platform that includes apps like:
Microsoft Teams, Word, Excel, PowerPoint, Outlook, OneDrive, and so much more.
Your office account is ready to use.
A list of your documents will display and you can start using online version of the M365.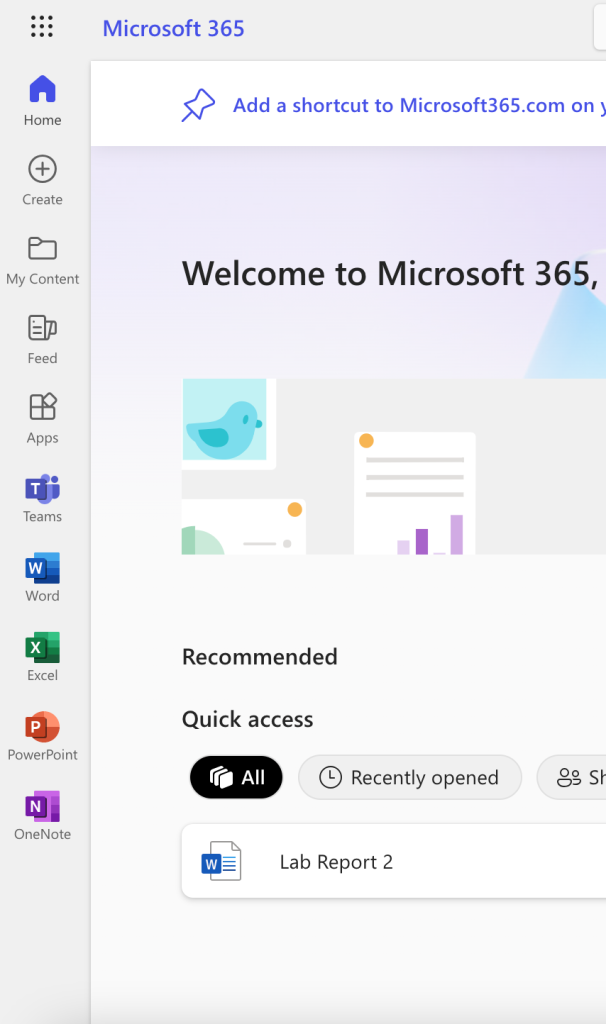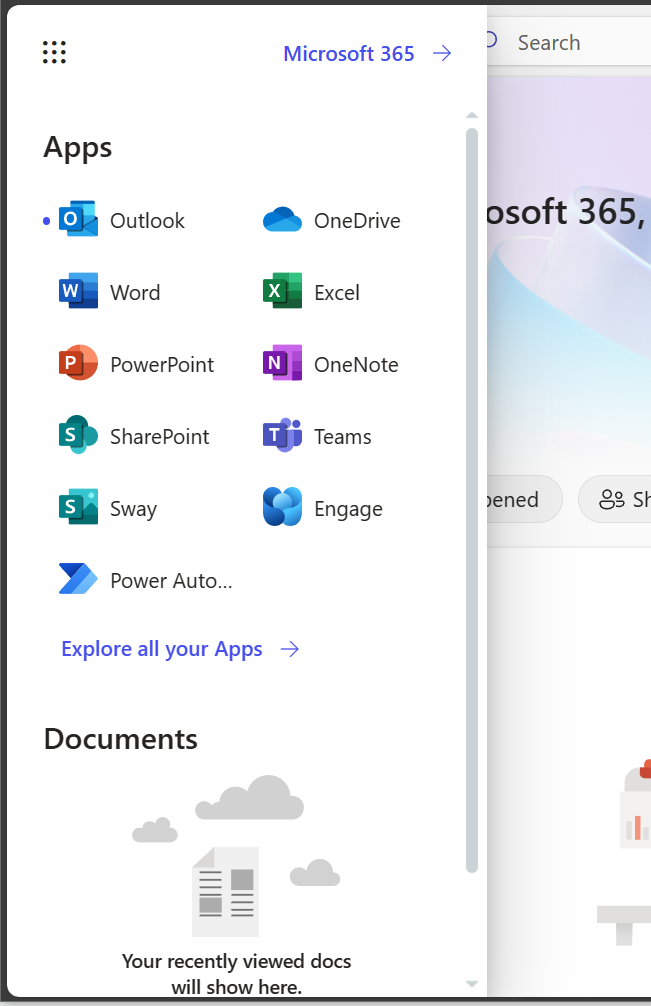 Installing Microsoft Office On your local Computer
To download apps on your computer, click Install apps on the right.

Looking for the mobile device app?
Install Outlook Mobile for Android and iOS.
| | |
| --- | --- |
| Android | Apple |
Join Teams meetings anytime, anywhere, from any device.
Teams meetings are best when you join them from the Teams app or Teams on the web, and there are many ways to do that. Read on for details about joining by link, from your calendar, and more. If you can't use the app or the web, some meetings let you call in using a phone number.
Click on any topic below to find out more.
Scheduling a Teams meeting
To schedule and set up a Teams meeting from Outlook, follow the steps below:
Step1
From your Microsoft 365 homepage, click on the Outlook icon to open it.

Step 2
Once Outlook is open, click on the calendar icon.

Step 3
Double click on the desired date of your meeting to open the meeting creation dialog box.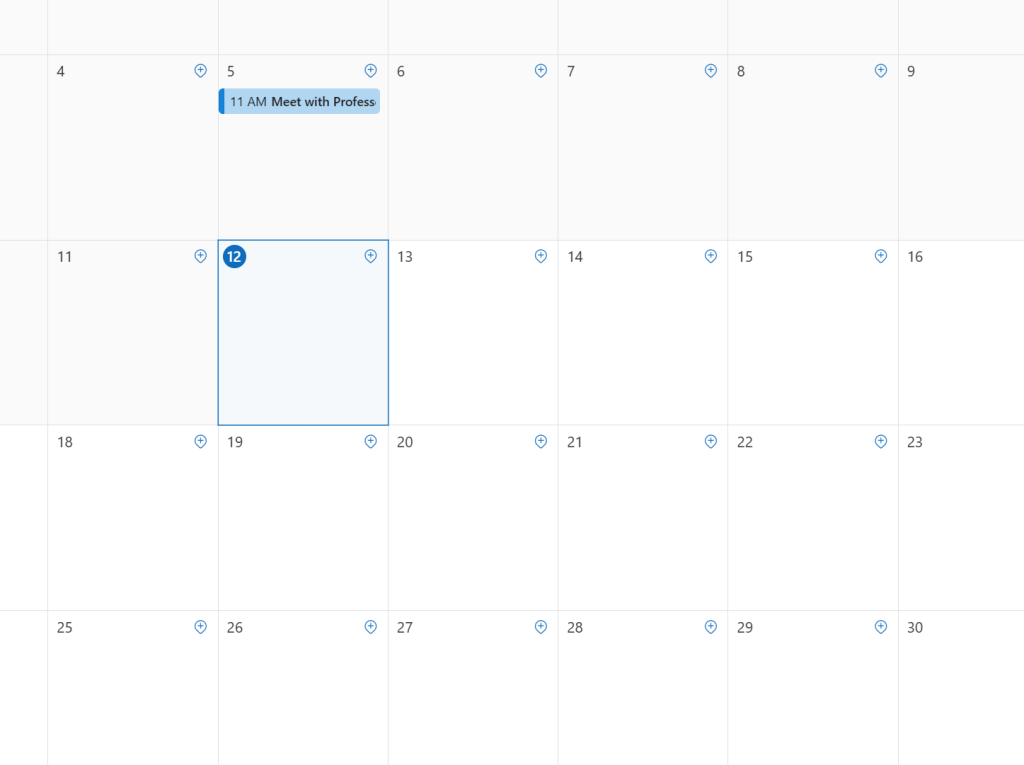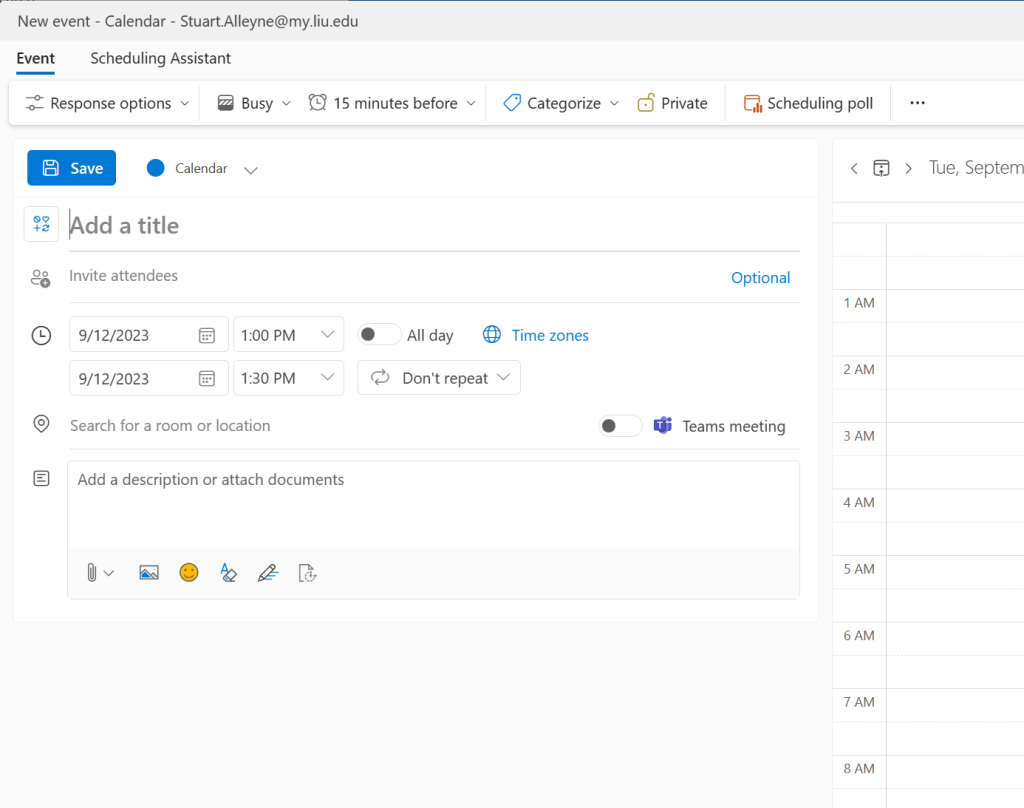 Enter a title name for the meeting
Enter the emails of those you would like to attend. (This can include people external to LIU)
Set the date and time
Click the switch to make it a Teams meeting
Add a description
Click Save
Step 4
Once the meeting has saved, you can then edit the meeting to make changes or adjust the Teams meeting settings.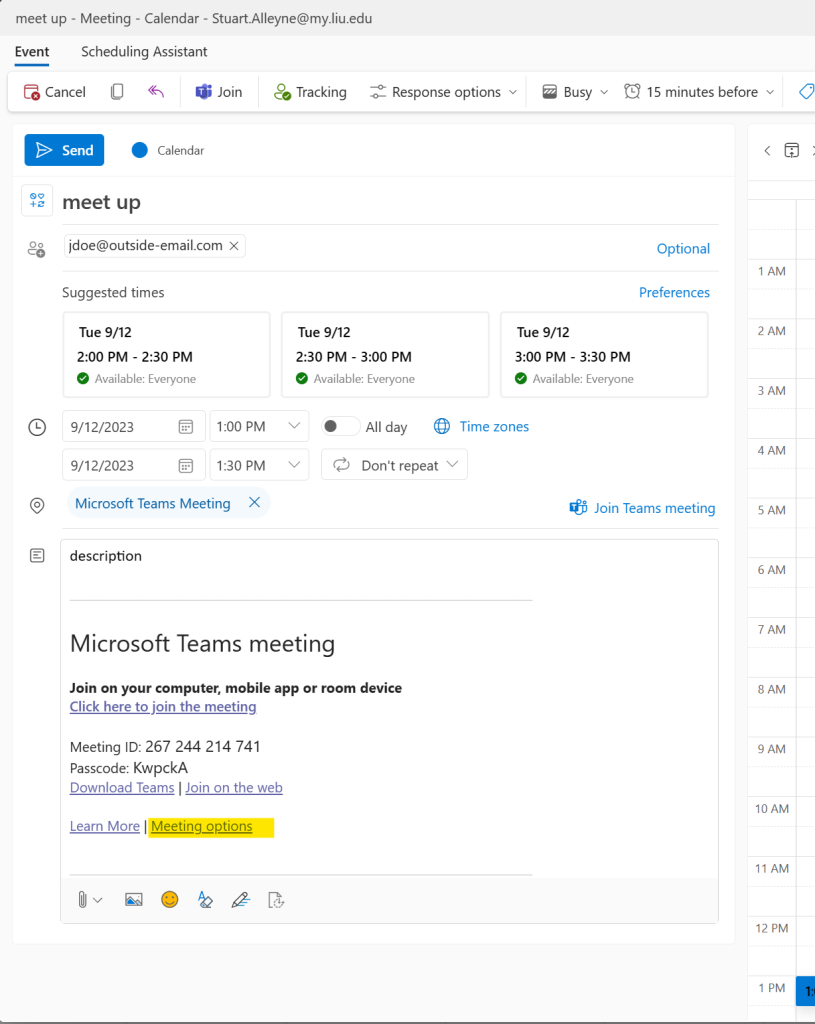 Step 5
To adjust the Teams meeting options, hold ctrl(windows) or option(mac) and clicking on the Meeting Options link. The options will open in another browser tab.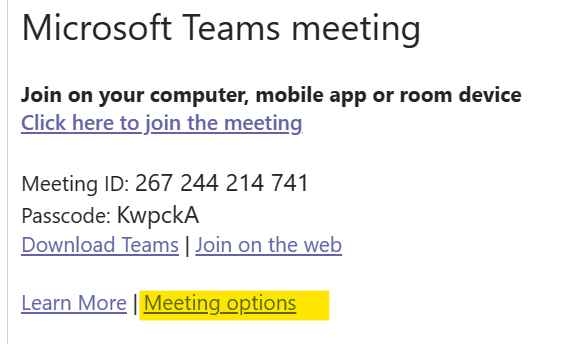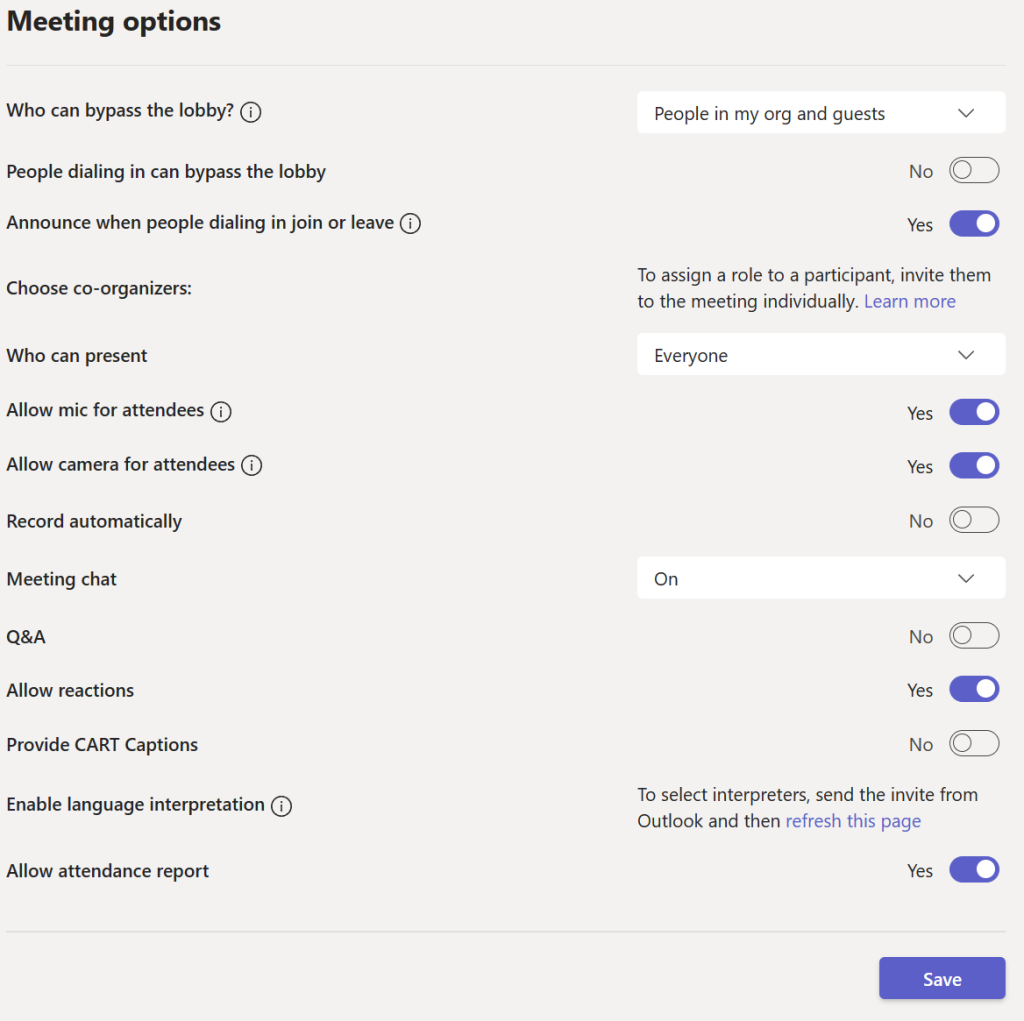 Can I use the portable Microsoft Office 365 applications on my cell phone or tablet?
Do I have access to the full suite of Microsoft Office 365 applications?
Active LIU faculty staff and students have access to all Office 365 applications and services.
If I accidentally delete a file in OneDrive, can I recover it?
What happens to my Microsoft Office 365 content if I am no longer a University employee or student?
Access to Microsoft Office 365 applications and online services is tied to your active employment/enrollment at LIU, and your access to these applications and services will remain available as long as you are still able to log in.