Get connected to the New University WiFi network.
University Wi-Fi network uses IEEE 802.11ac access points and provides students and faculty almost everywhere on campus with free and fast Internet access. To use Wi-Fi network students and Faculty should have their activated My LIU account. When you try to access internet you will be automatically redirected to the Authentication page.
To Log into the
New WiFi

network

(coming soon)
Choose 'LIUNET' from the list of WiFi networks.
Enter your Username (the same username and password that you use to log-in into the My LIU Portal).
Click Sign On.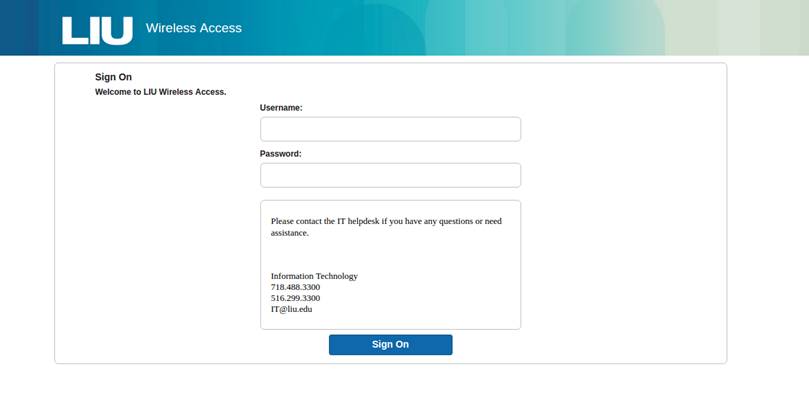 Features of this new portal include:
New look & feel (see sample screenshot)

Improved experience for users (no need to select profile role anymore)

Streamlined "Guest" registration for campus events/guests

Performance improvement (faster than before)

Security enhancements
The University network provides inter-connectivity between all departmental and campus networks, and also provides connection between these networks and the Internet. This is accomplished by having a resilient high speed Gigabit Ethernet backbone that is supported by 6 Cisco® Catalyst® 6500 Series multi-layer modular switches. The backbone extends to all University buildings and provides access to and from Fast Ethernet segments. Users' end nodes are connected at 10/100Mbs via a combination of Cisco Catalyst 6500, 4000 and 3500 access layer switches. A fiber optic Ethernet network interconnects the central computer configuration. We are currently multi-homed to the Internet by means of two Internet Service Providers (ISPs). The ISPs that we are using are Cogent and Cablevision Lightpath. They both provide us with a 100Mb link to the Internet. Our Internet-facing Cisco router includes a Cisco's Firewall Services Module which provide advanced security services including firewalling capabilities.